Connect with your social network account
Can't really help you with the MVA stuff. I think it's worth while to get it through inspection once since you only need one in maryland. I say get it to pass then drive it. More fun that way.
Status: HG repair. 488wtq though!
Posts: 1310
Joined: Thu May 13, 2010 1:53 pm
Location: Silver Spring, MD
Contact:
Mike240 wrote:Damn thanks all of you for responding .. seems like a good atmosphere around here ..

With the questions i dont even know where to start from .. first of all i need to figure out how exactly to deal with my situation .. the thing is i need to get the 240 inspected and insured to drive it on the streets and to be abel to go to meets and stuff .. car passed inspection only once when ex owner had it and he did all the modifications after that .. so me in the face of the total foreign guy dont know how exactly all this getin the car legal shit will work .. i really need someone to put me in the right direction ... where and how exactly the car passes inspection the esurance i think i can deal myself that will be easy but tell me fellas how liberal are inspection guys with cars like this ... do you think i should look for a shady guy or something where will be a good place to go ..

do you think @ the marylands mva i will be okay with valid in date international and also valid in date bulgarian drivings license

should i just say F it and turbo the engine now and build it like this and keep the car as a trailer bitch .. iam a car guy but not really a person who needs a daily driver in this moment .. i own 3 vehicles on two continents and there all non street legal performance cars ... my job and friends are in walking distance havent really felt like i need a daily at least for now ...

and also building the car will be a bitch .. i live in a damn hotel don`t have no indoor garage no nothing not really propper spot to take and engine out and work on it .. i need to find the right guy and pay him to do it i guess ... sorry for all the mistakes guys , i am terrible


i have so many questions about meets locations and stuff , car requirements for the track and stuff like that .. plenty of time to learn that i guess


@MYankov
You can get a vehicle inspected regardless of your license status in MD. Swap an airbag steering wheel back in, and if it's a '95 and will pass an idle & 2500rpm emissions test, you're good. If it's a '96 and you have no check engine/OBD2 codes present, that covers emissions. Some inspection guys will be more restrictive than others. As for insurance, you'll likely need a MD license or an international driver's license.
Definitely tag it; untagged vehicles can get towed on a whim, and the law won't be too helpful if that occurs.
'87 BMW 325 - Needs fixing
'93 Ford F250 Diesel - Up for sale soon
'03 Yamaha R6 - Hibernating
'14 Ford Fiesta ST - It's a party, alright!
Yeah i see the point u guys have and i agree. Hate to see the car just sittin. So i did a little research and it turned out it wont be that hard to get it tagged in MD... but ! (there is always a but...) after i got deep in the situation i and talked with my friends and the people around me it turned out iam forgeting that my legal living location and registration as a resident is in Delaware .. so this turns everything all the way around for me .. i need to read all the rules and paperworks for DE . iam working on it but as far as i know DE requirements are higher and the chances of tagging the car under my name without an DE drivings license are basicly cut in half ...

got me a little frustrated but whatever ... i decide to keep collecting parts for now so i have them when car is ready... its killing me on the inside knowing that i have only couple of little parking lots around the hotel i live in .. i so want to go out in the wild if you kno what i mean .. but i guess its for good ..

@MYankov
Welcome man good luck with the mva stuff lol
93 318 L33/T56 Swap Drift Turd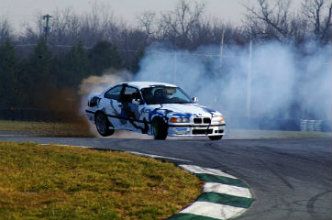 a little vid my buddy put together .. not your ordinary sliding around spot
http://www.youtube.com/watch?v=Kd6IqUXZyB0
---
Who is online
Users browsing this forum: No registered users and 2 guests